The mission of the ARIZONA BUDDHIST TEMPLE is to encourage Sangha:
1) to learn the joyful and compassionate teachings of Amida Buddha;
2) to practice these teachings in their daily lives; and
3) to share the teachings with others.
All beings be happy. May they be joyous and live in safety. All living beings, whether weak or strong, tall or short, big or small, visible or not visible, near or far away, already born or yet to be born. May all beings be happy.
May no one deceive or look down on anyone anywhere, for any reason. Whether through feeling angry or through reacting to someone else, may no one want another to suffer. May all beings be happy.
Sunday, July 2nd
- No Service -
Sunday, July 9th
10:00 am - Shotsuki Hoyo Dharma Service
Sunday, July 16th
- No Service -
Sunday, July 23rd
10:00 am - Dharma Short-Service
Sunday, July 30th
- No Service -
Sunday, August 6th
10:00 am - Dharma Short-Service
Sunday, August 13th
- No Service -
Sunday, August 20th
10:00 am - Dharma Short-Service 
Sunday, August 27th
- No Service -
Southern District Obon Festival Schedule
Held at the various Temples on the following days:
06/17/17: Sun Valley 
07/01/17: Senshin  
07/15/17: OCBC, Santa Barbara, Venice 
07/29/17: West LA, Higashi  
08/12/17: Gardena 
06/24/17: West Covina, San Fernando 
07/08/17: Nishi, Oxnard ice  
07/22/17: Pasadena, Vista
08/05/17: San Diego, Las Vegas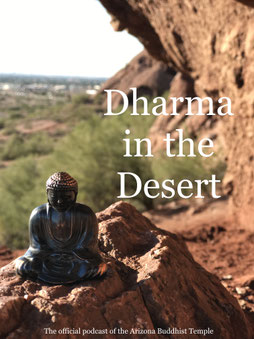 The official podcast of the Arizona Buddhist Temple hosted on SoundCloud. The purpose of this cast is to spread the teachings of the Dharma and provide different insights into the teachings of the Buddha. Every cast is a brief introduction of Buddhist concepts, followed by a Dharma message written by one of the temple ministers.
Hosted by:
Rev. Lynn Sugiyama
Sensei Vonn Magnin
Sensei Mike Tang
Dharma Message
Ungyo Lynne Sugiyama - July 2017
    Hello!  It is the end of another Dharma School Year.   I want to thank the members of the Arizona Buddhist Temple Sangha for attending services, helping at the temple, and making Dharma School a good learning center for the children.  
    At the beginning of April I broke my left knee cap.   I was at my daughter's track meet in Mesa and I tripped over a bench and landing right on my knee.   Luckily, I did not need surgery and I have been in a leg brace for two months now.  In the meantime, I also developed a blood clot in my left knee.  A couple of weeks after my accident, a clot went to my one of my lungs and it made me faint.   This was caused by a pulmonary embolism that sent me into the hospital for four days.   It was terrible for me and my family. 
    I am becoming healthier and stronger now.  I am going through rehabilitation for my knee and I am walking around much better.   I am not fast but I am able to hobble around here and there.  When I think of my accident, I experienced a lot of suffering.  
    When I reflect upon the Buddhism teachings, the essence of the teachings is the Four Noble Truths.  The First Noble Truth is that everything in life is "Dukkha."  Dukkha in Sanskrit means suffering or dissatisfaction.   Suffering can be physical or emotional, and it can by excruciatingly painful or just a nuisance.  For me, when I broke my knee cap I went through a lot of pain and suffering, but it also affected everyone around me.     
    After I broke knee cap my wife, Mamiko, had to take me to the Urgent Care medical office.   Then on Monday, we went to an orthopedic doctor's office.  She had to drive me to many appointments because I could not drive myself.  She also took me to the hospital after I fainted and visited me every day!   My daughter, Nanako, was also affected because she was very worried about me.   My sisters and their families were also worried about my health.   I could not do my chores around the house, so my wife and daughter had to do more of the cleaning around the home and taking out the trash.   
    At the temple, my accident made Vonn Magnin Sensei and Michael Tang Sensei helped with more of the activities at the temple.   Because I could not be at the temple, they took over the leadership of preparing and conducting weekly Dharma services.  They also helped with other activities like picking up the temple mail, taking out the trash, and preparing for Obon practices and the service.  
    Dukkha or suffering does not affect just me alone.  It affects everyone around me.  I made my family worry about me and they had to help me so much.  People at my work had to help me out with my assignments.   Vonn Sensei and Michael Sensei helped with temple services.  The members at the Temple worried about my health.   
    As you can see, one broken knee cap caused so many people to worker harder for me!   From all of this I learned about gratitude and love.   Without my wife and daughter I could not survive.  I am so grateful that they take good care of me and love me.   I am grateful for my sisters and their families for their support.   I am truly grateful for all the work Vonn Sensei and Michael Sensei did for continuing to conduct services at the temple.  I am grateful to the Arizona Buddhist Temple Board for helping with all the functions at the temple.  I want to express my gratitude to the temple members, the Sangha, for telling me to get better.  Thank you for all the get well card I received from the temple members and the Dharma School children!   
    It takes an accident to make me realize that so many people helped me.   I want to express my gratitude to all of you.  I also express my gratitude to the Amida Buddha through "Namo Amida Butsu."   Because of the Amida Buddha's wisdom and compassion I am made to realize I am grateful I am for the life I have and people who help me see my ignorance.  They help relieve my Dukkha or suffering by helping and caring for me.   I live a life of interdependence.  I cannot live without the people around me.  Amida Buddha teaches me that because of my broken knee cap, I am always grateful to the many people who help me and influence me in life.   
    Namo Amida Butsu.       
President's Message
Megan Ishikawa Tang - June 2017
Dear Sangha, 
    I hope that you are all staying cool and enjoying this summer season as it is now upon us as evidenced by the 120-­‐degree weather. Throughout the summer, we will continue to have dharma services every other weekend. Please see the summer service schedule above. The services will be shorter, mimicking Japanese style services. We still invite you all to continue attending service throughout he summer. Though we will be unable to offer meditation classes or Q&A sessions during the summer period. They will however resume during the Autumn.
    I would like to thank everyone who attended our Obon Festival and Service. We had a great turn out with an emotional and enlightening Obon Odori evening. I want to thank the Women's Club for all of their hard work in preparing a delicious bento for dinner. I would also like to thank the YBA as well as other various individuals who came out to help set up and clean up. Everyone who helped out definitely was appreciated and I want to thank all of you for making this year's Obon a success.  
    The Temple would like to extend its deepest condolences to the Tomooka Family with the passing of Fred Tomooka as well as the Tang family with the passing of Alan Tang. 
    Services for Alan Tang are as follows: 
Visitation: Friday July 7th, 5 to 8 pm, Hansen Mortuary (7th Street and Northern) 
Funeral: Saturday July 8th, 10 am, Hansen Mortuary (7th Street and Northern) 
On behalf of both the Tomooka family and the Tang family, I would like to thank everyone for all of the love and support they have shown to both families. We all really appreciate all of the thoughts and kindness you all have shown 
In Gassho,
Megan Tang
Arizona Buddhist Temple Women's Club
Betsy Matsumoto
We would like to thank everyone who helped with the preparation of obentos for Obon.  Also thank you to those who brought their favorite desserts or made a monetary donation for the pastry sale and to those who set-up and helped with the sale of the items in the Japanese Flea Market.   
Please visit the ABT Thrift Store in the El Centro Mercado Latino shopping complex, southeast corner, behind the QuikTrip gas station on 43rd Avenue and Indian School Road. The entrance to the store is on the far east side of the building. Look around, you never know what treasures you might find.   
Currently, all Japanese books, for adults and children, are free. This is a great way to learn or brush-up on your Japanese! Donations are accepted.  
The store hours are Saturdays and Sundays, 10:00 am-5:00 pm.  Please verify that the store is open as it might be closed because of Temple services or activities.   
With money raised from the ABT Thrift Store, the women's club purchased a rolling shutter that was installed to cover the kitchen counter food service area.  Now the kitchen area can be closed when there is a special service.   
Our next meeting is Sunday, September 17, at 9:00 am 
Buddhism In My Life 
By Sara Jay 
Since I was 5 years old, I have been attending the Arizona Buddhist Temple on Sunday's, as well as attending seminars and conferences in Los Angeles in the Bay Area for the Jr. Youth Buddhist Association. Because of my dedication to Buddhism, you may think I completely rule out any other religion. However, my father has taught me the complete opposite. The many teachings I have learned, only sought to teach me that everyone in this world is made up of events that make them different and unique from each other. However, our connections to each other, interdependence, make us a unifying force in the world. Our differences are not meant to make us defy each other. They are meant to contribute to a grander force that will better the world and make a more peaceful place. By following the Eightfold Path, I have been able to see the brighter light and that you make your own path. By doing so, I have pursued a more open lifestyle, accepting the change I see in the world instead of running from it.  
One of the most substantial events in my Buddhist life that helped me to become who I am today is my first leadership conference at Nishi Buddhist Temple my freshmen year. It was an event that brought us so much closer to one another in a period of hours. We were in a room with posters around us that read: school, friends, family, economic status, the future, yourself, etc. Then the administrator would say, "go to the side of the room that makes you feel secure." Because of this, I was able to witness who felt most comfortable at home, and who was most comfortable with their friends. Then they would say, "go to the side of the room that you hide from the world." This was the point that made me said. I saw people at ever poster. Some were insecure about themselves, others who lacked friends, and some who had troubles at home. This made me see that so many people lead different lives than us. We may know them as our friends from YBA, but that is only one small, minute part of their life. Similar to what we see in everyday society, you really cannot fathom what people are experiencing in their lives, as humans are very skillfull at picking and choosing what they express on the outside.
The teachings I have learned from seminars, conferences, and weekly Dharma service discussions have taught me that each and every individual is different. There are aspects of our lives that intertwine us, but the events, people we have met, and places we visit separate us from being identical. I learned that there are reasons why some one may have said a rude comment, or why someone chooses to be extremely quiet in school. We should not judge them for this, as we most likely express some of these habits ourselves. But if we can learn to identify and express understanding towards one another, then we will only better ourselves and the world as a whole. Overall, Buddhism has taught me that diversity is a beneficial attribute, and we should rejoice in its presence instead of shying away from it. 
What Reincarnates: A Clear Explanation 
David Belcheff 
    I have received valuable responses to my article, "Buddhist Peace—Before, After, and During This Life", (Prajna, November, 2016; and the British journal, Pure Land Notes #30, December, 2016). The problem of traditional Buddhist doctrine simultaneously upholding the notion of no-self (anātman) and the contradictory notion of reincarnation has been an object of sustained contemplation for me and a topic of discussion with Dharma friends for years. One Dharma friend directed me to the work of Ian Stevenson. Another Dharma friend claimed that the Buddha simply left us with a mystery regarding the simultaneous assertion of reincarnation and denial of substantial selves. So, with help from my friends and the Larger Sutra, I pressed on, trying to make sense of this "mystery" until, at last, discovering a satisfactory explanation that conforms to Siddhārtha Gautama's rational methodology and to his great insight into the issue of impermanence: It is relationships—most technically, patterns of relatedness—that reincarnate, not individuals. For humans, especially, patterns of relatedness between our genes (biology), memes (communications culture), and extended phenotypes (material culture) reincarnate. This view takes the Buddha's assertion of no-self seriously. Also… 
• It explains all of the phenomena related to testimonies of reincarnation, including visitations from dead loved ones, without positing survival of individual personhood after death. Think of patterns of relatedness rippling across regions and generations, much like the hundredth monkey effect.
• Relationships exist between the "extremes" of pairs (or groups) of subjectivities. Therefore, relationships accord with the principle of the Middle Path. And, as such, relationships are not accessible to the grasping or calculating mind. Relationships are homeless. Relationships do not dwell exclusively in this or that personality, but visit them all.
• If patterns of relatedness persist, life after life, then the unique personalities involved in a given relationship are merely – and wonderfully, and deliciously – incidental, accidental, finite, mortal, evanescent, special. From the gratuitous aid of a stranger to a loving life-long relationship, the "and" of Martin Buber's "I and Thou" spontaneously manifests, ever fresh and alive, as the dependent arising of mutually-acknowledging subjectivities.
    Furthermore, relatedness (rather than personalities) reincarnating is falsifiable. Our relationships with others—whether alive, dead, or fictional—already reincarnate from instant to instant, so we can empirically test the correctness of this view at any time. It is not persons, but relationships that are reborn each instant. It is patterns of relatedness that account for personalities, and that "return" over and over again in the "return to earth-school until getting it right and graduating from the wheel of samsara" analogy; for example, centuries-old conflicts that still persist today.
    This view puts to rest worrying about what happens after we die. Liberated from such ontological anxieties, we are free to focus on peaceful and happy relationships (which is what we really are), rather than obsess about the right-or-wrong, he-said-she-said, rule-bound, tit-for-tat exchanges within relationships—whether generous or mean-spirited. Am I so mighty? No matter how great my self-cherishing, my precious identity, my spiritual ego, my "annoying humanity" (as my wife calls it), I am still going to face the same oblivion as Shelley's "Ozymandias." Yes, it is true that everything we think, say, and do matters a great deal, and we are all "responsible for our actions," as we robotically remind ourselves. But when we misunderstand a self (whether our own or another's) as an atomistic automaton, rather than a complex assemblage of relationships, we fall into error. When we attack another, we never just attack an individual being, we attack an entire network of relationships. Likewise, when we love another, a wondrous union of relational love flows through us into the midst of another wonderful gathering of relationships, affecting untold revolutions of "peace and happiness" (see Dharmākara's thirty-third vow).  
    Ultimately, then, it is our relationships that really matter. Relationships are powerful. Individual identities only seem so. Shin Buddhism has a wonderful term that helps us understand relationships, rather than individuals, as the locus of life-activities, and even of consciousness: "Other Power" (Tariki). Other Power undulates through friendships, studentships, parenting, devotion, pastoral care, diplomacy, charity, etc., and also through our relationships with food, technology, and other non-human beings we encounter in the world.  
    When understanding patterns of relatedness, and not individual persons, as that which "reincarnates," the term, Sangha, and Shinran's notion of Dharma friends (ondobo/ondogyo), come to mean so much more, and the Shin canon can be heard in a much deeper key
1) Amida Buddha selects all helpless, hopeless, foolish, ordinary beings drowning in the karmic ocean of birth and death as the targets of his inconceivable Vow. This means that we have a special connection with all other beings as fellow targets of Amida's Vow. How, then, could we not naturally aspire to regard all others with the same compassion expressed in Amida's Vow "to remove the roots of the afflictions of birth and death of all" (Larger Sutra 1:6)?
2) In his "causal stage," as the bodhisattva, Dharmākara, Amida Buddha learned an eternal practice from his teacher, Lokeśvararāja. This practice is called kuyō (Skt., puja, lit. "worshipping with offerings;" see, e.g., the twenty-fourth vow). Kuyō involves visiting countless Buddha lands, making offerings to them all, and learning relational wisdom from the "good and evil natures of heavenly and human beings living there." The practice of kuyō emerges spontaneously from the relationship between Lokeśvararāja and Dharmākara, spreading out like rebounding ripples in a pond, expressing itself as the Vow to save all beings, to make each and every one a Buddha. Identified especially in the seventeenth and eighteenth vows, and supported by all forty-eight vows, the relationship Amida has with all beings, the kuyō selected as his eternal practice, manifests in his Name. 
    From these two relational templates, we develop an awareness of every being we encounter as: 1) a fellow target of Amida's boundless compassion, and, thereby, 2) a Buddha in the making, or a teacher of relational wisdom. Amida's Vow-mind, then, models the correct attitude to maintain towards every being, in every moment, in every incarnation.  
    For further study, see: the third, sixth, and ninth chapters of the Tannishō; and the third, fourth, fifth, and forty-fifth vows of the Larger Sutra, reading the events of past lives as history, and the beautiful, homogenous golden appearance of humans and devas as relational rather than as personal forms of being, i.e., as love.